Magic Mushroom
Welcome to The Magic Mushroom Gallery. Since 1996 we have been one of the biggest Smartshops in Amsterdam. Currently we have two stores. On the Spuistraat (near Dam Square) we are known to be a very customer friendly and spacious shop that gives you the possibility to roam around and explore the products that are displayed around the shop with information about it, without feeling obliged to buy something. You can also ask our professional staff for a catalogue and sit down and read through it while having a free cup of tea or lemonade on the comfortable pillows in our chill out area. There is also the beautiful mood-light wall to enjoy. The other shop on the Singel canal is a very cozy but efficient shop located on the pretty flower market. You can expect the same professional service from the staff here that is always ready to answer any questions you might have about the products. There is also the possibility of sampling a product by snorting a line of herbal speed to give you energy and a rush.
We offer a very broad range of products manufactured with professional care and always from the best quality ingredients. We are a member of the VLOS which is an association of smartshops that keeps control over which of the many thousands of products on the market are good and which are not.
This site will take you on a trip through our hundreds of products to alter your state of mind. Some will give you energy to dance all night, or relax you after a stressful day. Others stimulate you sexually, or will take you on a psychedelic journey through your own mind, and then some recover you from it all. For every mood, the right mind food!

» Signup for our newsletter
» Latest news
MAGIC MUSHROOMS & MAGIC TRUFFLES
Magic Truffles are the #1 product on M..
Read more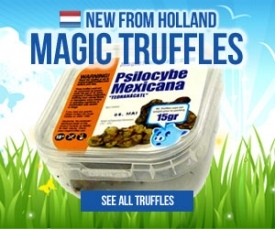 » Payment methods